Abseiling & Canyoning Adventure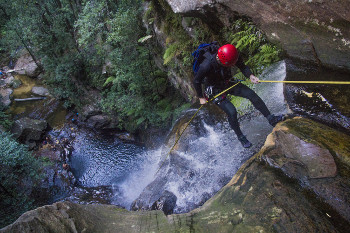 Duration : 8 Hours (approx.)
Location: Katoomba, NSW
Product code : Abseil&Canyon
This trip runs with a minimum of 2 participants- We suggest booking in with a friend to ensure you get to attend on your preferred date!

If you don't receive an automatic confirmation, you are likely the first booking for this activity- Please call us on 0247 822 014!
An entry level abseiling and canyoning experience that is an ideal introduction to these amazing adventure sports!

The first part of the day is focussed on acquiring abseiling skills, we start with several short practice abseils and then move up to some higher challenges, the introductory abseiling session is an exciting adventure in its own right! After lunch we'll test our new skills with a trip through a breathtaking Blue Mountains Canyon.
The journey takes us deep inside the sandstone cliff, wading, scrambling and jumping into pools! We will complete our canyon journey with a short scenic trek back to the starting point!
In the warmer months we conduct introductory level tours in Empress and Grand Canyon- these will also involve numerous swims in cold canyon water.
In the cooler months (typically May 1 to September 31) we further extend our canyoning program to include the very popular Juggler Canyon. Juggler is a unique and exciting abseiling and canyoning journey that allows us to experience an amazing canyon adventure without the need to be wet and cold! Our exit from this canyon will also include a section of the famous Grand Canyon trek - renowned for being one of the most naturally beautiful, scenic, short walks in the Blue Mountains!
We provide all specialist personal and group abseiling and canyoning equipment including harnesses, helmets, wetsuits etc. on all canyoning adventures and tours. After we process your booking an information sheet detailing specific equipment and dress requirements will be sent to you.
Lunch is also provided on this adventure- Please be sure to inform us on your booking form if you have any special dietary requirements!